Divorce
Below are the articles in the Divorce category. Each article title is followed by a brief summary introduction to the content. Click "Read Excerpt" for a more comprehensive review. Click "Add to Package" to buy or redeem the article.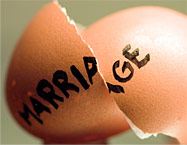 Blended Families
All relationships have their complications, but stepfamilies create a web of relationships and inter-relationships that make the average spider's overnight spinning look simple in comparison.
Breaking Up Is Hard to Do (But You Can Lessen Its Distress)
Nobody enjoys a break-up, but you can take certain steps to minimize harm.
Good Co(operative)-Parenting
Good parenting can be even more challenging after divorce; what is it that children need during this time?
How Well Do You Part Ways?
Breaking up is hard to do. But it doesn't have to be devastating.
Special Delivery: Talking to Kids About Divorce
Research shows that children of divorce can suffer serious emotional consequences, some of them long-term. But parents can help mitigate the potential trauma. Here are ways to begin.
The Do's and Don'ts of Dating After Divorce
When most of our communication is spent defending ourselves, there's not much room for meaningful contact. This quiz helps identify the problem and offers alternative perspectives.